Things To Do In Creemore This Fall / Late Summer
Monday, August 15, 2022
There's no need to dwell on summer coming to an end when the town of Creemore is jam packed with family friendly attractions all year round. The food, the music, the vibes—they're all in this small town with a big heart, so read below to see how to squeeze out the rest of summer and wrap up 2022 on a high note.
Visit the all-new Creemore Village Green
A project initiated with community and culture in mind, this centrepiece of Creemore is finally open for all to visit! With countless local events and activities planned all year long, this landmark location in the middle of quaint Creemore brings food, family, and fun together. After the official grand opening of the space on August 21, 2022, the locals have already taken full advantage of all the great (and free!) amenities like the dog park and the fountain area.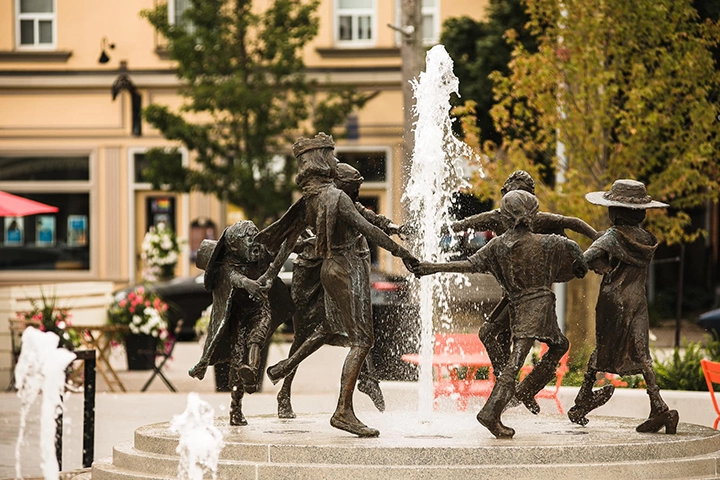 (Photo credit: Creemore Village Green Facebook Page)
Meanwhile, the main stage has already had some talented acts break it in during the annual Copper Kettle Festival to celebrate the 35th anniversary of Creemore Springs brewery (more on that later).

(Photo credit: Creemore Village Green Facebook Page)
The community fun continues on Saturday, September 17 from 5-10pm, as the Creemore BIA is set to usher in the start of fall with the Autumn Equinox, a free evening event at the Creemore Village Green with live music and even a hoedown tutorial! Make sure to always check the Creemore Village Green Facebook Page for up-to-date news about what's happening in the most happening place in Creemore.
Head to the Creemore Farmers' Market
This year round Farmers' Market runs outdoors every Saturday until Thanksgiving weekend from 8:30am – 12:30pm, and features local vendors, expertly prepared foods and artisans. No matter your taste or style, the Creemore Farmers Market will have something for you. This year is extra special as September 3rd marked 25 years of the market being in the community. Check out all the great local vendors here.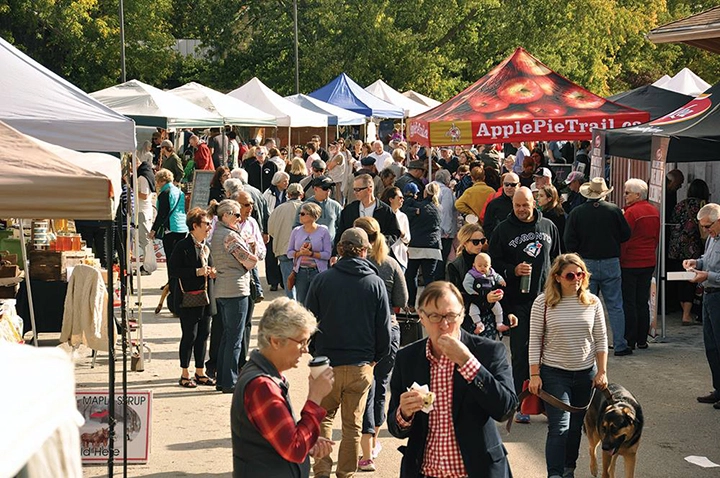 (Photo credit: Creemore Village Green Facebook Page)
The Small Halls Festival is back for 2022!
The community halls – or "small halls" – are often where small town memories are made, and the Small Halls Festival series has been making memories since 2014. After a two-year hiatus, the Clearview Township staple will be making its triumphant return with over 20 exclusive events across nine different venues from early September until early November.
What type of events? Personally, we can't wait for the Murder Mystery dinner on October 22 at the Creemore Station on the Green, but there is plenty of fun to be had, including the classic High Speed Chicken Race on September 10 at 4pm and the Creemore Festival of the Arts from September 30-October 2 from 10am-4pm.
Admission to all of these events is completely free, with cash purchases allowed for food and beverage vendors on site. Check out the festival series events page to learn all about these events, plus much more.
Local Legend turns 35!
Beer aficionado? Then you've heard of Creemore Springs, and now you can visit the place where it all started. The company celebrated 35 years in the community with the Copper Kettle Festival at the Creemore Village Green on August 27, but it all began in 1987 when a local Creemore resident John Wiggins started a microbrewery right in town – and as the saying goes – the rest was history. Since opening their doors, Creemore Springs have remained true to their small batch ways of brewing beer that the locals love. You can visit the brewery for a tour on Monday-Saturday from 12pm-4pm and Sundays from 12-3pm, with tours running every hour.
(Photo credit: Creemore Springs Facebook Page)
The town of Creemore has always been a small town with a big heart, and now with the newly minted Creemore Village Green project being at the forefront, the future of Creemore is bustling with opportunities to make great memories. Summer may be drawing to a close, but the town of Creemore is ready to squeeze out every drop of the warm weather and make sure the rest of 2022 and beyond is ripe with possibilities for family focused fun.
Looking for a preconstruction condo in Ontario? Get notifications about all of MDM's upcoming new condo launches directly to your inbox. Register here to get updates on all communities.
Follow us on  Instagram and Facebook  for updates on all things MDM Developments.